Budgeting, Diner Style!: Teaching Functional Life Skills
---
Published: Apr. 15, 2021
Updated: Jun. 29, 2023
---
In this first part of our Functional Life Skills series, let's learn about money, ordering, budgeting, communication, and more by setting up and enjoying a pretend restaurant. Real treats optional (but recommended!). Don't miss parts two and three in the series on getting ready for the day and building disability and medical self-advocacy.
While eating in a restaurant may be our idea of a good time, our kids may need a little more practice at it. After all, so many skills go into the activity of going to, and enjoying, a restaurant — practicing good communication, making choices, sitting still, ordering food, learning about what things cost and how to pay for them, not to mention budgeting. In short, restaurants offer the opportunity to work on all kinds of life skills — so why not take advantage of a period in which we can't actually visit one by creating the restaurant experience at home? Sarah Cacciato, a special education teacher and educational therapist at L&S Special Education Consulting and Services, provided an activity called The Room Diner to help our kids learn to order food from a restaurant, take an order, and pay for it themselves.
"The Room Diner" printables
First, print these order slips and The Room Diner menu to use for the activity. Use this round-up worksheet to help your child figure out how to round up the amount of an item they would like to order to the nearest dollar ("dollar up").
Cacciato tells us that when she works with kids on this activity it's helpful — and fun — to make it relevant by pretending to visit a favorite restaurant. To make each skill applicable to children's individual needs, she breaks it down into three skill types:
Numbers and 1:1 correspondence: Role-play waiting on your child by asking them what they'd like to order. Have them pick an item they want from the menu and pair it with a basic price depending on their level:

Tier 1: Identify the next dollar (counting one up, or "dollar up").
Tier 2: Read the menu and have your child dollar up on their own.
Tier 3: Add the products together, find the total, then dollar up.

Being at a restaurant and ordering appropriately: To work on good communication practices as well as executive functioning skills, help them read the menu. Practice scanning the headings for the type of food being offered, choosing what they would like, and how to politely ask for it when it's their turn to ask the wait staff (you) for what they want. This is a great activity for practicing using an AAC device as well.

Whole experience: Put all the skills together by changing roles: have your child take your order. You can also play different roles as the customer and the cashier, and help them practice adding up the cost of the items they'd like to order and pay the cashier using real money. If they're ready for it, you may want to challenge them by learning about tipping: work with them to decide what percentage to tip you (yes!) and figuring out how much that will add to the total!
Above all, be sure to make this as fun and light as possible! Cacciato reminds us that it's easy for adults to forget the basic steps of ordering, so she encourages us to think through every step of the process and explicitly teach it to our kids.
Mimicking the real restaurant experience
To help us break down the activity even further, we reached out to special education advocate and owner of Know IEPs, Dr. Sarah Pelangka. "Complicated menus often throw kids for a loop," Dr. Pelangka says, "so work with them on navigating lots of choices to find what they want."
Start by identifying the type of food first; you may also want to use something to mask part of the menu to make this easier.
To help our kids practice patience, she advises that we (the wait staff) purposefully take our time and wait on "other tables" so they can learn how to get our attention respectfully.
You can also make a deliberate mistake in delivering their order so they can learn how to politely correct you.
To work on managing the kind of loud, busy environment we often encounter in a restaurant, try simulating the same environment by having the TV and radio going.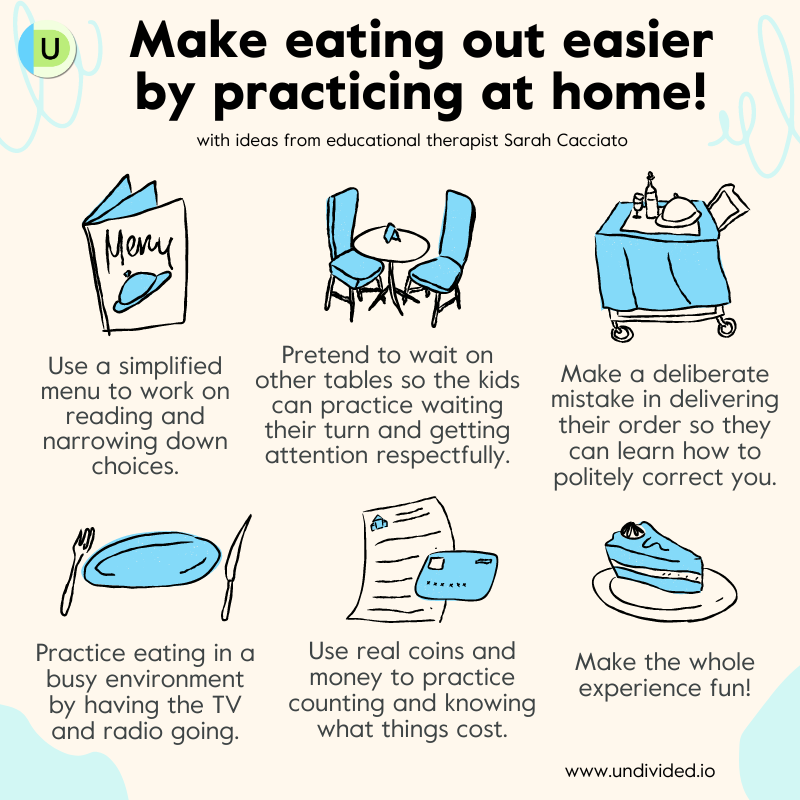 Counting coins
Even though many of us rarely carry cash and tend to use a debit or credit card for everything, we still need to know how much an item costs to be sure we've been charged correctly, and if we return something, to make sure we receive the same amount of money back — so even if our kids may eventually use a debit card more often than cash, Dr. Pelangka reminds us they will still need to know how to identify and count money!
It's helpful for kids to get a tactile sense of money, so Dr. Pelangka advises we use the real thing and not fake money — it's best to be consistent and real. "Start by feeling and identifying the coins," she says. Let your child feel the different surfaces of the coins and their sizes and edges. Describe them: this one has a face, this one has an eagle; and so on. This is especially important for kids with visual impairment so they get a tactile feel for each coin. Then move on to learning their value:
Playing coin bingo: One fun way to work on value is to play money bingo and use real coins. You can create your own dice for the game by taping pictures of coins on dice you already have, or simply call out the coin. Give each child a large handful of coins and print out coin bingo cards. (You can find some free color printables for coin bingo here!) When they're ready for the next level, play bingo using cards that show the money value of the coins instead of the coins' faces.
If your kid already has a handle on coins, try ABCYa's coin bingo game for an added challenge!
Make a pretend store: Set up a store at home with a few things your child would like to buy — their favorite treats or maybe a few small toys — and make a menu showing what each one costs in coins. They may buy the item only if they use the correct coins (of course, they can be allowed to try again).
Learning how to budget money
As we all know, even adults can be great at math but horrible at budgeting (ahem), so if your kid is ready to learn about budgeting, this is a great skill that can be broken down across many levels.
Dr. Pelangka says the simplest way to practice budgeting is to establish an allowance and create a chart or menu of things they would like to buy. You can include items that cost a small amount as well as big-ticket wishes. Each week when they earn their allowance, take the opportunity to talk about their wish list. Tell them, "You could blow it this week and get this thing you like for $5, or you could save it and get the thing you really love for $20." If your kid is in high school, you can apply these wishes against real-world demands: gas for their car, money for a sports uniform, those cookies they love from the school cafeteria, and more!
---
Author
---
Give feedback to the Undivided team
A Navigator is your Partner at each turn
Every Undivided Navigator has years of experience supporting families raising kids with disabilities or parenting their own. Partner with an Undivided Navigator for a free
Kickstart
to learn first hand what support feels like!
Expert-driven content, guidance, and solutions.
Member events and office hours with real answers, plus access to our private parents' group.
Priority to begin a free Kickstart of the Undivided Support System with a dedicated Navigator.
"It's so helpful to have one place that you can go to get many answers."
–Leeza Woodbury, with Navigator Kelly since 2020