The Amazing Visual Schedule!
---
Published: Aug. 20, 2020
Updated: Sep. 19, 2023
---
Many of our kiddos are visual learners, and research shows that visual schedules can clearly reinforce expectations in a way that's easy for kids to understand, which can lead to reduced stress and anxiety, increased independence, and fewer meltdowns. Being able to visualize the day, week, or even month ahead can help kids complete steps, transition between activities, stay focused, and process information. This also provides a sense of predictability in an increasingly unpredictable environment. Here, our research team has gathered some helpful tips and resources for creating and implementing visual schedules that will benefit your entire family.
Create a schedule
The experts at Child Mind have compiled Parenting Hacks for Special Needs Kids, which offers tips for helping support children with sensory issues and other common executive functioning challenges. This includes helping children and families to get organized by making visual schedules. Families are encouraged to sit down together to brainstorm ideas, routines, and themes, and then put them all together in a schedule that works for the entire family.
Make it visual
A visual schedule is considered an important intervention according to the University of Utah Department of Educational Psychology's report on Visual Schedules: A Practical Guide for Families. Visual schedules can help kids with following a routine, transition between activities, develop new skills, and be more independent when completing daily tasks.
Visual schedules can consist of photographs, videos, line drawings, symbols, text, or another visual format that is used to show the user what they are expected to do." These tasks are then arranged in the order they are to be completed. This provides the child with predictability and expectations.
Tips for creating a visual schedule
Appropriate visual format
Visual schedules can be picture-based or text-based with times, depending on each family member's developmental level.
Research has found that schedules that use photographs, videos, or a combination are more beneficial than schedules that use just line drawings or text only.
You can also personalize the schedule by using images of the child successfully completing each of the tasks.
Monthly visual calendar
Consider posting a monthly calendar with all activities for the month in a common area like the kitchen.
Make a monthly calendar for each family member, with a general idea of what each day will look like, such as school day, holiday, etc.
Weekly visual calendar
Use a poster-size whiteboard
Glue photos to index cards with velcro on the back of them
Each day the child can see where they are going, who they are going with, and what kind of clothes are needed for the weather. This can be tailored to the individual's needs.
Set up the weekly board on Sunday afternoons as a family, so everyone is given a chance to talk about the week to come and anything unusual that might be coming up.
Daily visual schedule
Try a magnetized flow chart; this can be made similar to a game board, where the child moves the task along the board to completion.
According to research on visual schedules, it's important to "include a way for the child to indicate when steps have been completed, such as filling in a check box or moving images from the "to do" side of the schedule to the "done" side of the schedule."
Use dry-erase markers to write tasks on the bathroom mirror or shower wall for tasks like the morning routine, writing out each step for the child to follow.
Use a pocket-sized visual schedule with icons or photos for the day's schedule. It could be laminated and hole-punched and placed on a keyring or images can be pasted into a small notebook.
Our 7 top visual schedule apps and printables for kids
Choiceworks
Choiceworks is a visual schedule-builder that is meant to teach children necessary daily routines such as showering and brushing their teeth, but it also teaches children how to be patient and control their feelings through the use of countdown timers. This app was created in coordination with child development specialists and leading hospitals, and offers countless customizations.
Ages: 4+
Cost: $19.99

Platform: iPad and iPhone
Cozi Family Organizer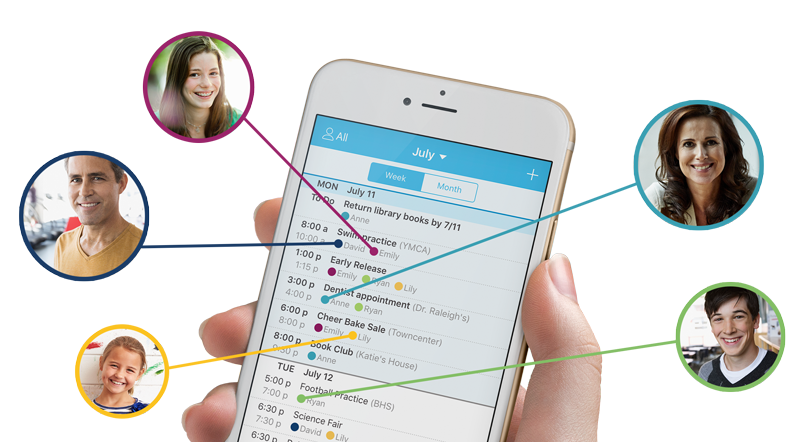 This award-winning app (which has been featured on the Today Show and Martha Stewart Living) helps families organize their daily activities by keeping track of everyone's schedules and sending reminders. Everyone in the family can log in and see the same information.
Ages: 4+
Cost: FREE with account; offers in-app purchases

Platform: iPad, iPhone, and Google Play
First Then Visual Schedule
This app allows you to create a variety of visual supports including "first, then" boards, visual daily schedules, task analyses, stories, and visual models. It's completely customizable, so you can use your own photos, images found on the internet, and stock images provided by the app. Parents may also record their own voice to go with the images and email a PDF copy of the schedule to print for home. In addition, it has three formats so parents can choose which best suits the needs of their child: full screen, "first, then" screen, and list screen.
Ages: 4+
Cost: $9.99

Platform: iPad and iPhone
Do2Learn
This educational website provides tips for teachers and parents and allows users to build their own visual schedules. They provide free printable picture cards parents can use to create their own visual schedule board. They offer suggestions on how to sequence the picture cards to create a cohesive and organized routine for various tasks. In addition, they provide free printable templates in various daily, weekly, and calendar formats.
Ages: Varies; features are organized by suggested age of user

Cost: FREE resources and features for purchase
SchKIDules
This website provides multiple formats for magnetic and velcro visual schedules for purchase. They also offer categorized packets of images, such as school, home, and emotions, to use with the schedules. There are icons for all areas of daily life and activities for creating a sequenced visual schedule.
Ages: Not listed
Cost: Varies by item from $5 to $35; a deluxe magnet collection box is $34.99
Template from the Center for Disease Control and Prevention
The CDC offers examples of visuals to create structure and blank templates for parents to use.
Teachers Pay Teachers
This website provides an editable Daily Class Schedule Template for only $1.
---
Give feedback to the Undivided team
A Navigator is your Partner at each turn
Every Undivided Navigator has years of experience supporting families raising kids with disabilities or parenting their own. Partner with an Undivided Navigator for a free
Kickstart
to learn first hand what support feels like!
Expert-driven content, guidance, and solutions.
Member events and office hours with real answers, plus access to our private parents' group.
Priority to begin a free Kickstart of the Undivided Support System with a dedicated Navigator.
"It's so helpful to have one place that you can go to get many answers."
–Leeza Woodbury, with Navigator Kelly since 2020